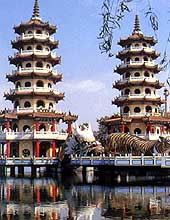 Dragon & Tiger Pagodas at Lotus Lake
(Tsoying District, Kaohsiung)

New Views
A suppliment to:
Around Kaohsiung. A Community Guide (01/99)
Keep informed of changes in our community.
For updates since publication, click on

below.
Helpful links are included for many categories.

Churches
Counseling
Education
Entertainment
Health
Hotels
Night Life
Organizations
Pets & Vets
Public Notice
Q & A
Restaurants
Services
Shopping
Small World
Sports
Touring

Kaohsiung changes
constantly keeping life full of surprises!
Itís exhilarating to stumble upon a new restaurant, or find a quaint shop when least expected. But, itís quite a shock to make the trek to a favorite spot and
discover that the place has
totally disappeared!


"New Views" is based on
observations, comments and suggestions provided by Kaohsiung
residents and visitors
of all nationalities.

Contact us anytime!
Thanks for sharing.
Check in frequently.
This site is constantly updated!
NEW VIEWS DOES NOT ENDORSE OR PROMOTE PRODUCTS,
BUSINESSES OR SERVICES. ALL INFORMATION IS SHARED TO BETTER
INFORM THE COMMUNITY OF OPTIONS THAT ARE AVAILABLE.

---
Return to Around Kaohsiung. A Community Link