Around Kaohsiung.
A Community Link
NEW VIEWS: Religious Centers
Updates, New Venues, Deletions,
Corrections and Expanded details
refer to listings published in
Around Kaohsiung. A Community Guide.
Recommendations
refer to contributions offered since publication
KAOHSIUNG CITY
(Catholic Churches) 2/99
BAPTIST MISSIONS (Southern Taiwan) 6/99
PINTGTUNG COUNTY (Catholic Churches) 2/99
KHH COMMUNITY CHURCH 2/00
KAOHSIUNG COUNTY
(Catholic Churches) 2/99
MORE SUNDAY SERVICES IN ENGLISH 2/00
---
Expanded!
CATHOLIC MASSES FOR FOREIGNERS
IN THE DIOCESE OF KAOHSIUNG
(scroll through listing below for Kaohsiung City, County and Pingung)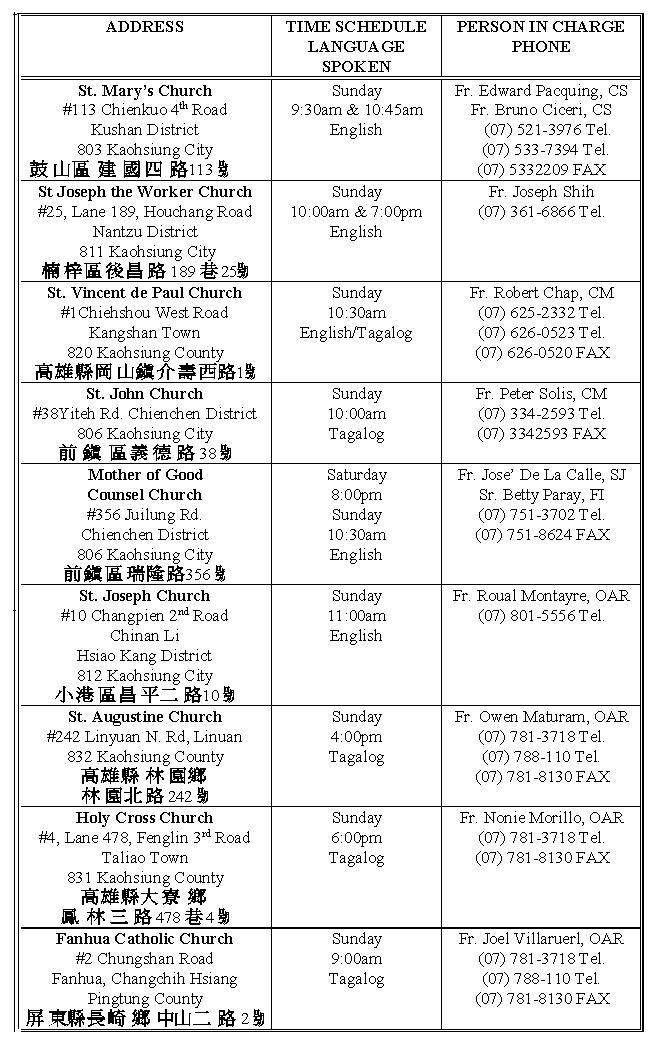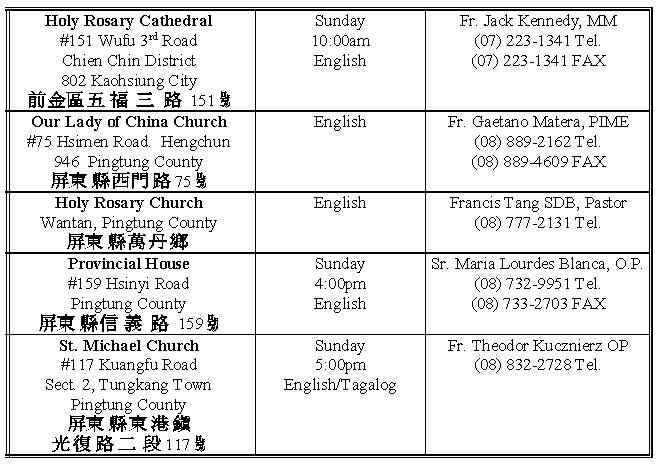 Back
---

New!
SUNDAY SERVICES IN ENGLISH
c/o Lingya Lutheran Church
Sundays 7:30-8:30
#74 Min Hsiang Street in Hsin Hsing District
281-1291
Back
---

KAOHSIUNG COMMUNITY CHURCH
Kaohsiung Community Church: An International English Speaking Congregation
with worship and Sunday school at 4:30 on Sunday afternoons. We meet at the
Ting Li Presbyterian Church, #218 Ting Li Road, San Min District, Kaohsiung
City (Mintsu Rd north to Tiensiang Rd, turn right to Ting Li Rd. Church
will be on far left corner of intersection). The church sponsors special
activities for men, women and youth. For more information see our web page
Web Page or call 370-7426.
Back
---
Return to New Views Link