Around Kaohsiung.
A Community Link
NEW VIEWS: Health
Updates, New Venues, Deletions,
Corrections and Expanded details
refer to listings published in
Around Kaohsiung. A Community Guide.
Recommendations
refer to contributions offered since publication
Click on

for a specific topic/article/link
Dates indicate when items were added to this page
DENTIST 5/99
HEALTH INSURANCE 7/99
OB/GYN 6/99
EYE DOCTOR Research in progress
DERMATOLOGIST 6/99
CHILDBIRTH & LAMAZE 8/99
New phone number
CHIROPRACTIC SERVICE 2/00
KHH FAMILY & TRAVEL CLINIC New FAX number 2/00
---
Just Recommended!
DENTIST
Dr. Yat-Hang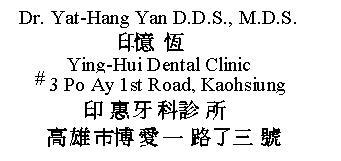 Telephone: 327-0556
Fax: 315 6385
English spoken
1976-1982 Kaohsiung Medical College, Department of Dentistry
1986-1989 Kaohsiung Medical College, Master of Dental Science
1990-1991 University of Toronto, Canada
1989-1998 Ass't. Professor of Kaohsiung Medical College, School of Dentistry
back
---

Just Recommended!
DERMATOLOGIST
Dr. Kewen-Chong
Clinic Location: #68 Wufu 2nd Road
Telephone: 227-3234
Speaks English and French!
back
---
Just Recommended!
OB-GYN
Dr. Tsai Chan Huei
Saint Joseph Hospital
OB-Gyn Department: 223-8153-7
Dr. Tsai speaks English, however you may need
assistance from a Chinese speaking friend when dialing
through the clinic switchboard
back
---
New Regulation!
National Health Insurance Coverage for
Foreigners Holding Valid Legal Residency Status
China Post (07/09/99)
"Changes to health insurance law to affect thousands of aliens. With the recent revision to the law governing the National Health Insurance (NHI) program, foreign nationals with legal residency who have lived here for at least four months will be allowed to join the NHI starting in mid-July, the Department of Health's Bureau of National Health Insurance (BNHI) said. The new change is expected to affect student visa holders, foreign business owners and missionaries and those visiting their relatives in the country.
Shih Yu-chu, General Manager of the department of underwriting and eligibilty at BNHI said 'Those qualified for the new policy can now join the program through their employers or various local city or township district offices throughout the country. Even though the revision will take effect in mid-July, Shih said people should expect minor delays at the district offices due to the time it takes for local officials to receive notice from BNHI ."
NHI Program Update (China Post 12/05/99) All persons residing in Taiwan and holding an Alien Resident Certificate (ARC) for more than four months are required to join the NHI Program. These persons will contribute regular monthly premiums and will then be eligible for all NHI covered benefits. NOTE: Once the ARC is expired and/or the right of residency expires, the holder should withdraw from the NHI Program. For more information, call 080-212-369 (toll free) or visit NHI Web Site at http://www.nhi.gov.tw Complete details in English

BENEFICIARY

CATEGORY

GROUP APPLICANT

DATE EFFECTIVE

Insured Party
Employers

---


Employers

Union Worker/Member

Unemployable persons not qualified as dependents

Company (Organization, School, Agency)


---


Company

Association Union

City/District/Town/Village Administration Office

Required to join on first working day

---


Requrired to join after holding ARC for more than 4 months
Dependant
a)Unemployed spouse
b)Unemployed parent
c)Child (20 years)
d)Child (20+) enrolled in formal school, disabled or unemployed
The same as the insured
---
New Number!
Childbirth & Lamaze Classes
Lamaze Certified Childbirth Educator (Donna)
Call Donna at 370-7426
or send an email to Donna
back
---
Just Recommended!
Spirit Dragon Chiropractic & Natural Medicine Institute for Research
Dr. David WU
#93 Hoping 1st Road
Tel: 726-0079 726-0336
Not much English spoken, BUT Dr. Wu speaks well enough to let you know
what's wrong and how he will make adjustments.
Satisfied expat patients give him 5 stars! They recommend you go for
an introductory visit so appointments can be more easily scheduled.
back
---

New Number!
Dr. Ho (KHH Family & Travel Clinic)
has a new FAX number: (07) 552-4319
---
Return to New Views Link