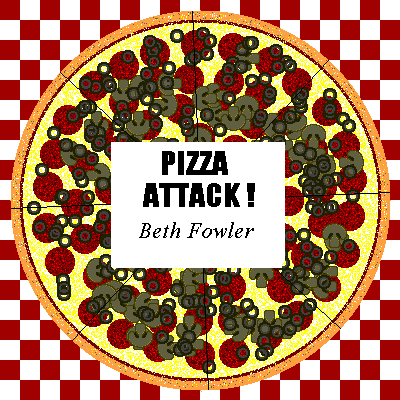 Pizza has been an Italian staple since the Stone Ages. But, during the 1500's someone got the notion to slap fresh tomatoes on the stone-baked bread. In 1889 Pizza Margherita, the ancestor of today's pizzas, was created to honor Italy's Queen Margherita. It was garnished with red tomatoes, white mozzarella cheese and green basil, ingredients chosen because they represented the colors of the Italian flag.
Over the centuries, pizza migrated around the world where each culture improvised on the fast food with ingredients such as chocolate, French fries and chewing gum (just kidding!).
It's the standby of yeasty, flat, round breadlike crust slathered with seasoned tomato sauce, cheese and toppings - pepperoni, anchovies, mushrooms, onions, green peppers - that comes to most people's minds when they are attacked with a desire for pizza.
Here are some places around Kaohsiung that serve pizza.
DOMINO PIZZA offers nine-inch diameter pizzas from NT$280 to NT$360 or thirteen-inch pizzas from NT$410 to NT$550. Choices include Super Deluxe, All American, Tuna, Veggie, Smoked Chicken, Shrimp Hawaiian, Kung Pao Chicken (great idea!), Kung Pao Seafood, Seafood, Hawaiian, Beef, Mexican, Meat Lover's, Super Hawaiian, and Deluxe. In its bid to win the pizza wars, this well-known franchise threw in a big bottle of Coke and garlic bread free of charge. The Veggie Pizza I ate was topped with green olives, corn, green peppers, mushrooms, cheese and tomato sauce. In three words: Piquant. Not greasy. Friendly staff.

MAMMAMIA Home Style Italian Restaurant & Wine Store's menu includes nine kinds of pizza. The least expensive, small six-slicer pizza costs NT$165; the most expensive twelve-slicer costs NT$380. While waiting for my Smoked Chicken Pizza to arrive, I watched a chef assemble pizzas in the ground-floor kitchen, gazed at the cozily lit interior decorated with objects Italian, and ate bread sticks and garlic bread presented in vertical wire baskets. The pizza was garnished with fresh tomatoes, green peppers, big bites of white chicken meat, plenty of cheese, but sauce was evident only on the rim. I doctored mine with salt, and my friend doused his with hot sauce. Pleasant atmosphere. A sweetish taste. Crunchy crust.

NAPOLI Pizza, a chain of pizza shops in Kaohsiung, Tainan, Feng Shan and Jaiyi, is named for Naples, Italy. The Chinese-language menu shows glossies of Calamari, and Pepperoni Pizzas (NT$99 each), Combination, Hawaiian, Seafood, Beef Sausage, Ham and Pepperoni, and Mushroom Pizzas for NT$199 small or NT$219 large. The pies can be eaten out of the box at the restaurant or delivered. A large pizza is about 12 inches in diameter. No smalls were available the night I visited the branch at 93 Fude 3rd Road at the intersection of Santou 1st Road. Scarcely enough sauce was applied to give the pizza an embarrassed blush. Savory mushrooms, not those tasteless canned clones, graced my Mushroom Pizza, along with sweet corn, peas, green pepper slivers, and gobs of nicely browned cheese. Satisfying. Gooey. Lacked Neapolitan zing.

PIG & WHISTLE Traditional British Pub sells whole pizzas, approximately 10 inches in diameter, from NT$260 to NT$280. Choices include Pig Pizza, Pepperoni, Garlic Pizza, Hawaiian, Turkey Pizza, Corned Beef, Anchovy Pizza, and Seafood Pizza. My friend, who had resided in an Italian neighborhood dubbed "Garlic Valley," wanted more spices and herbs on her pizza. Granted, it lacked discernable herbs - oregano and basil, to name two - but the generously applied sauce had a fresh, bright taste and chunks of plump, juicy tomatoes. My Anchovy Pizza had just the right amount of anchovies. The crust didn't impart a particularly yeasty flavor. Colorful. Small. Imaginative.

PIZZA-HUT recently added Apple Pizza to its repertoire of franchise pies. I ordered a take-out regular Veggie Pizza from the Pizza Hut on Guangzhou Road across from the Chaing Kai-shek Cultural Center. The six-slice, nine-inch diameter reg. pizza with three free drinks (why three, I don't know) was on sale for NT$255, an NT$35 discount. Large pizzas range from NT$420 to NT$535 and at 13 inches in diameter are cut into eight slices. My pizza arrived before the twelve-minute waiting time elapsed. Packets of chili pepper and paper napkins were thoughtfully included with my order. One question: When did pineapple become a veggie? Often imitated. Filling. Reliable.

PIZZA PUB & ITALIAN RESTAURANT, Hai-Lai Hotel 22F, offers a dozen kinds of pizzas including the classic Margherita. Prices for eight-inch diameter pizzas range from NT$250 to NT$350 and twelve-inch diameter pizzas from NT$375 to NT$470. The atmosphere is classy with cloth napkins, Italian music piped over the sound system, and a brick fire oven that imparts a distinctive flavor to the pizzas. My Napoli pizza was garnished with four black olives, a few capers, fewer anchovies, lots of cheese and some sauce. Classic. Expensive. Yummy.

PRICE COSTCO, a membership discount store, sells Combination, Hawaiian, and Seafood Pizzas whole for NT$299 or NT$60 per slice at its food court. My 10-inch-long slice of Combination Pizza had tomato sauce (not enough), green peppers, onions, pepperoni and mushrooms on it. The crust was chewy and coarse, the way I expect "real" pizza crust to taste. If you don't mind the warehouse ambience, Costco's pizza is a good value and a delicious meal or snack. Price Costco is on 656 Junghwa 5th Road and according to a Costco executive, will open soon in Taipei. Tasty. Big. Basic.

ROLLING STONE PUB'S pizza at the intersection of Hotung and Wufu 3rd Roads and DEW DROP INN'S pizza behind the Kingdom Hotel on Wufu 4th Road are worth a try too.