Tokyo Massage
#20 Minshing Street
Hsin Hsing District
Tel: 241-2610
blind professional massuers
"Pretty Woman"
#192 Wufu 2nd Street
Tel: 261-3216
Ladies only spa & massage.
"Walk ins" welcome
Venus
#141 Chungcheng 2 Rd
Tel: 225-8272
"Lady's Sauna Plaza"
Complete care including "body brushing"
..great for skin in Kaohsiung
Reflexology
Call Ben Fann
at 090813680
lucasfan@mars.seed.net.tw
At home or hotel visits
Foot Massage
#124 Jenai 2nd Street Tel:715-0872
German, English spoken.
Professional and personal attention.
Expect several treatment
---
HEALTH CLUBS
CITY CENTER
Body & Soul Wellness Center
Newly opened within the Grand Formosa Kaohsiung, the club heals both "body & soul". Indoor pool, fitness gym and exercise classes are perks to put you in shape. Healthful snacks or fruit drinks are served poolside. The Center is only open to hotel guests and members. Children under the age of 15 are not allowed. Call: 566-8000 and ask for Shandy Ho.
Executive Club
The Executive Club pool is an outdoor oasis on the 11th floor of the Grand Hai Lai Hotel. Air-conditioned squash court, aerobic center and gym are included. A professional instructor can design a personal exercise routine. Jacuzzi, sauna and massage top it all off. The Club is only opened to members and hotel guests. Contact: 213-5788 Ext. 7745.
Grand 50 Club
While not a health club in the true sense of the word, the Grand 50 Club offers the most luxurious spa around town. Membership also entitles use of dinning and banqueting services. Call 387-0011 for more details.
CHENGCHING LAKE AREA
The "DC" Club
Located at #202, Cheng Hu Road, Niao Sung, Kaohsiung County, the DC has alot to offer. Call Timmy Yu, Club Manager at 731- 9898 for all the details.
Yuan Shan Club
Part of the Grand Hotel complex near Chengching Lake Park, this is the "Grand Daddy" of area clubs. The "Yuan Shan" has the most complete facilities including pool, sauna, gymnasium, basketball, tennis and squash courts, archery ground and golf practice range. Families are welcome and membership lasts a lifetime! #2 Yuanshan Road. Niao Sung. Call: 370-5911, ext. 601
NOTE: Other hotels in town manage health clubs
for guests, with membership available to
area residents. We just couldn't list 'em all
HOLIDAY GARDENS HOTEL
offers a great deal....ticket books for
use of outdoor pool and all
fitness equipment, which is in "tip top shape" and well maintained.
Cost works out to be NT$250/visit
Tips from Shari Leiterman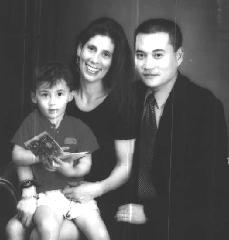 Shari Leiterman holds a B.S. Degree in Exercise Physiology. As Director of Club Hygiene Health Retreat in Florida, she provided nutritional counseling, exercise training and meditation therapy together with Dr. Doug Grahman, noted author on fitness and health. If you're interested in personal counseling or massage, give Shari a call at 551-1331.
She works "1-on-1" or with groups.
A combination of exercise keeps interest up. In addition to walking, running and swimming, try some Tai Chih. Impromptu groups gather in the parks.

Work out with a friend. Being with people who share the same goals improves attitude and motivation

Pampering is an essential ingredient to any fitness program, especially in a polluted city. Make time for massage and top it off with a relazing spa.

You don't have to be rich and famous to get into shape. Parks and public schools in Kaohsiung have facilities free to ouse after hours. City pool rates are reasonable. Commercial health centers in town offer memberships for purchase in "block time".

The "you are what you eat" trend has caught on here. Many "Green Stores" have sprung up around Kaohsiung serving healthy sandwiches, grains and vegetables. Some even deliver.

Take advantage of the "healing arts" typical in Taiwan. Aromatherapy, reflexology and meditation are good starters.

Create exercise alternatives: If you work on the 12th floor, take the stairs instead of the elevator. Trade in your scooter for a bike...it'll help the environment, too.

Develop goals and push yourself to achieve them.

Do the best you can with what you've got. Believe in yourself!


---

FITNESS CENTERS

Legia Sports
#532 Boai Road
Telephone: 557-7980

Reasonable rates. No pool, but it's hard to beat Legia Sports for personal training and work outs

President Health Club

For those on a tight budget, the "President" offers just what you need. The oversized pool is perfect for lap swimming, and the fitness room has equipment to give you a real work out. Plus, you can "pay as you go" by week, month or year. Classes for children and adults. #105 Wencheng 2nd Road, B-1. Lingya. Telephone: 333-8765

Kevin's Health Club

Reasonably priced exercise classes for adults and children, including dance and gymnastics. Membership entitles free use of facilities, but some class time must be scheduled with minimal payment required per month. #836 Chengching Lake Road. Niao
Sung. Call: 731-0679; 731-0176.